Fact Nº.1
Macadamias contain
no
cholesterol
Nutrition Facts and Health Benefits of our Macadamia Nuts
Macadamias are considered the world's finest nut and are the only native Australian plant to become an international food. Their delicate flavour, versatility and crunchy texture make them a delight to consume. 
They contain a range of nutritious and health promoting constituents and form an important part of a healthy diet. A balanced diet containing macadamias promotes good health, longevity and a reduction in degenerative diseases.
Macadamias contain no cholesterol as they are a natural plant food and do not contain any trans fatty acids. They are not genetically modified and only contain natural genes. 
For people who are gluten intolerant, vegetarian or have other dietry needs, macadamias provide a great substitute as they have a very high proportion of monounsaturated fat, Vitamin B1, manganese and copper.
There have been numerous studies which show that macadamias can reduce the incidence of heart disease, clotting and inflamation, as well as improve cholesterol levels and blood lipids. Studies have also shown regular consumption can lead to weight loss. 
Research has shown
that macadamia nuts can help lower
blood cholesterol levels as well as reducing the risk of heart disease
Fact Nº.2
Macadamias have no trans fatty acids
Composition
As macadamias are a natural product their composition may vary due to the growing district, variety, cultural procedures and growing season. The composition of both raw, dried and roasted Australian macadamias typically contain the following:
Natural oils: 74%
Moisture: 1.2%
Protein: 9.2%
Dietary fibre: 6.4%
Carbohydrates: 7.9%
Mineral matter: 1.3% including Potassium, Phosphorus, Magnesium, Calcium, Selenium, Zinc, Copper and Iron
Vitamins: Vit. B1, B2, B5, B6, Vit. E, plus niacin and folate
Phytochemicals: Antioxidants including polyphenols, amino acids, selenium and flavanols plus plant sterols
Energy value: 3080 kilojoules per 100g [747 calories]
 
Macadamia nuts (raw kernel): Per 100g serve
Energy: 3080kJ macadamias in bowl
Moisture: 1.2g
Protein: 9.2g
Fat (total oils): 74.0g
Monounsaturates: 60.0g
Polyunsaturates: 4.0g
Saturated: 10.0g
ASH (minerals): 1.3g
Carbohydrates (total): 7.9g
Sugars: 4.6g
Dietary Fibre: 6.4g
Cholesterol: Nil
Calcium: 64mg
Potassium: 410mg
Sodium: 2mg
Fact Nº.3
Macadamias
are
high in
fibre
Summary of Health Benefits
Research* has shown that macadamias can help lower blood cholesterol levels 
Research* has shown that macadamias may reduce the incidence of heart disease
High in fibre
Very high proportion of monounsaturated fat
No cholesterol
Contain vitamins, minerals and protein essential
in a healthy diet
AND they taste great, too!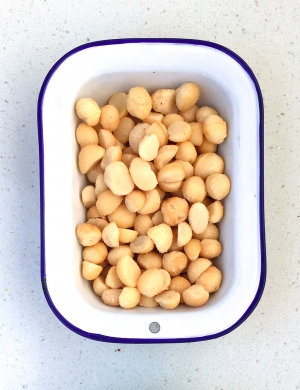 Sources:
A review of health benefits of the world's finest nut Ian McConachie, September 1999
Health benefits of macadamia nuts, A/Professor Manohar Garg et al, Discipline of Nutrition & Dietetics, Faculty of Medicine & Health Sciences, The University of Newcastle, September 2001
For more information please get in touch or refer to the Australian Macadamia Society